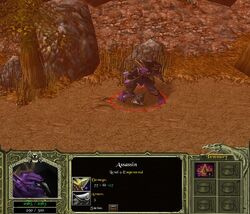 DescriptionEdit
(Creep Description)
The Assassin appears (in-between two trees, beneath Ogre Mountain) while the player moves along the road, east of town.
AbilitiesEdit
(Abilities)
Captures the player in a net and attacks at range.
Attack speed increases with each attack.
Carries Combat King - Siphon Life (Link) which can be stolen by the player.
Additional InformationEdit
(Additional Information)
Trigger Event : The Assassin apears after the final Main Quest of Chapter 1 (Revenge) has triggered.
Drops : 1 Honor Point
Community content is available under
CC-BY-SA
unless otherwise noted.