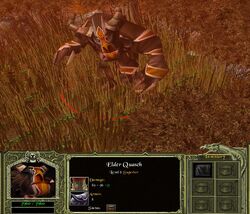 Elder QuaschEdit
DescriptionEdit
(Creep Description)
Inside the circle of trees in the centre of the map.
AbilitiesEdit
(Abilities)
Can call Quasch reinforcements.
Quasch Claws (Which can be stolen by the player).
Additional InformationEdit
(Additional Information)
Trigger Event : The Elder Quasch apears after the final Main Quest of Chapter 1 (Revenge) has triggered.
Drops : 1 Honor Point
Community content is available under
CC-BY-SA
unless otherwise noted.