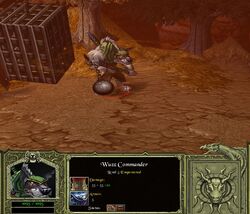 Wuzz CommanderEdit
DescriptionEdit
(Creep Description)
Appears on the top Left Corner of the map, as part of the Main Quest - Rescue Dart!.
AbilitiesEdit
(Abilities)
Command Aura, increasing the attack damage of nearby units by 25%.
Drops Soldier's Gloves upon death.
Additional InformationEdit
(Additional Information)
Trigger Event : The Wuzz Commander is part of the Main Quest of Chapter 1 - Reacue Dart!
Drops : Soldier's Gloves
Community content is available under
CC-BY-SA
unless otherwise noted.